The Ups and Downs of Learning and Using English: Aviation Students' Voices
Keywords:
Aviation Students, English language learning, Successes, Challenges
Abstract
Proficiency in English has become the standard language in the international aviation industry. To avoid accidents, all aviation personnel needs to communicate in English. The communication skills of aviation personnel should be developed during their studies. Therefore, the purpose of this study was to investigate aviation students' successes and challenges in learning and using English. Six aircraft maintenance students from three different aviation schools in Malaysia participated in the study. Using a qualitative research design, the study collected information from open-ended interviews and document analysis gathered from online postings. The data were analyzed thematically and managed using ATLAS. ti software. Overall, the results showed that students experienced more successes than challenges in learning English. There were three themes categorized under successes and challenges: opportunities, feelings, and progress. The results could help course module developers and language teachers create modules that meet the needs of aviation students.
References
Aiguo, W. (2007). Teaching aviation English in the Chinese context: Developing ESP theory in a non-English-speaking country. English for Specific Purposes. https://doi.org/10.1016/j.esp.2005.09.003
Allen, R. E., & Wiles, J. L. (2016). A rose by any other name: Participants choosing research pseudonyms. Qualitative Research in Psychology. https://doi.org/10.1080/14780887.2015.1133746
Arnaiz, P. & Guillén, F. (2012). Foreign language anxiety in a Spanish university setting: Interpersonal differences. Revista de Psicodidáctica, 17 (1), 5– 26.
Arnaiz, P. & Guillén, F. (2013). Anxiety in Spanish EFL students in different university degree programmes. Anales de Psicología, 29(2), 335–344. https//doi.org/ 10.6018/analesps.29.2.130791
Barbieri, B. (2014). Aviation English: History and Pedagogy. The Journal of Teaching English for Specific and Academic Purposes, 2(4), 615- 623.
Basturkmen, H. (2019). ESP teacher education needs. Language Teaching, 52(3), 318-330.
Bloomberg , L.D & Volpe, M (2016) Completing Your Qualitative Dissertation Of Road Map From Beginning To End. 3rd ed. SAGE Publication
Braun, V., & Clarke, V. (2006). Using Thematic Analysis in Psychology. Qualitative Research in Psychology.
Cacciabue, P., Mauri, C., & Owen, D. (2003) The development of a model and simulation of an aviation maintenance technician task performance. Cognition, Technology and Work, Vol. 5, No. 4, 2003, pp. 229-247.
Creswell, J. W. (2012). Educational research: Planning, conducting, and evaluating quantitative and qualitative research. Thousand Oaks, CA: Sage Publications.
Dalkilic, S. (2017). Improving aircraft safety and reliability by aircraft maintenance technician training. Engineering Failure Analysis, Vol. 82, 2017, 687- 694.
Vo, T. A. D. (2022). Student's Attitudes towards Communicative Activities on EFL Student's Speaking Performance. International Journal of Language Instruction, 1(1), 143–154. https://doi.org/10.54855/ijli.221112
Daulay, V.D., & Prabowo, M. A. (2015). The importance of English for Graduate- Students of Vocational School Majoring Aircraft Engineering. 2nd UNJ International Conference on Technical and Vocational Education and Training.
Devira, M. (2017). Acquisition of academic literacy in an engineering communication course: Integration of English for Specific Purposes (ESP) and Systemic Functional Linguistics (SFL). Studies in English Language and Education, 4(1), 38-53.
Dworkin, S.L. (2012). Sample Size Policy for Qualitative Studies Using In-Depth Interviews. Arch Sex Behav 41. https://doi.org/10.1007/s10508-012-0016-6
Embryany, F., & Ratmanida. (2019). A need analysis of English learning for the aircraft maintenance students. Advances in Social Science, Education and Humanities Research, volume 405. 1st International Conference on Lifelong Learning and Education for Sustainability (ICLLES 2019)
Fleckenstein, J., Leucht, M., Pant, H. A., & Köller, O. (2016). Proficient beyond borders: assessing non-native speakers in a native speakers' framework. Large-Scale Assessments in Education, 4(1), 1-19. https://doi.org/10.1186/s40536-016-0034-2
Ghafournia, N., & Sabet, S. A. (2019). The most prominent roles of an ESP teacher. International Education Studies, 7(11), 1-9.
Hutchinson, T., & Waters, A. (1987). English for Specific Purposes: A Learning-centred approach, Cambridge University Press., Cambridge
ICAO. (2010) Manual on the Implementation of ICAO Language Proficiency Requirements. Canada: University Street, Montréal.
Indonesian Ministry of Transportation, Peraturan Menteri Perhubungan No.PM 64 2011.2011
Ismail, M. H. (2012). Kajian Mengenai Kebolehpasaran Siswazah di Malaysia : Tinjauan dari Perspektif Majikan Study on Employability of Graduates in Malaysia : A Survey of Employer Perspectives. Prosiding PERKEM VII.
Ivan, J., & Krissh, P. (2021) Technical vocabulary acquisition using the online learning approach among aircraft maintenance learners. International Conference on Multidisciplinary Innovation and Economics 2021.
Karimi, P., & Sanavi, R. V. (2014). Analysing English Language Learning Needs among Students in Aviation Training Program. Procedia - Social and Behavioral Sciences, 98(May), 852– 858. https://doi.org/10.1016/j.sbspro.2014.03.491
Lin.J., Wang.A., & Zhang, C. (2014) Integrating Curriculum Design Theory into ESP Course Construction: Aviation English for Aircraft Engineering, Open J. Mod. Linguist.
Liu, M. (2006). Anxiety in Chinese EFL students at different proficiency levels. System, 34(3), 301– 316. https//doi.org/10.1016/j.system.2006.04.004
Padil, H., Said, M., & Azizan, A. (2018). The contribution of human factors on human error in Malaysia aviation maintenance industries. IOP Conference Series: Materials Science and Engineering, Vol. 370, 2018, Document No. 012035.
Pizzaro, M.A. (2018). Foreign language classroom anxiety among English for Specific Purposes (ESP) students. International Journal of English Studies. https//doi.org/10.6018/ijes/2018/2/323311
Ismail, R., Yussof , I., & Sieng, L. W. (2011). Employers' Perceptions on Graduates in Malaysian services sector. International Business Management, (5), 184-193. https://doi.org/10.3923/ibm.2011.184.193
Meristo, M & Arias, F. J. L. (2020). Challenges in teaching English for specific purposes in Estonian universities. The Journal of Teaching English For Specific And Academic Purposes, Vol. 8. https://doi.org/10.22190/JTESAP2003249M
Rahmat, A., & Al As'ary, M. (2017). The Application of Egp Materials to Atc Students of Casea Makassar. LEKSEMA: Jurnal Bahasa Dan Sastra, 2(1), 65-75. https://doi.org/10.22515/ljbs.v2i1.630
Ramakrishnan, K., & Yasin, N. M. (2012). Employment issues among Malaysian information and communication technology (ICT) graduates: A case study. African Journal of Business Management, 6(16), 5615-5621.
Rasyimah, I., Ahyar, J., & Sari, D. K. (2018). Challenges in Designing ESP Course for First Year Students of Engineering Faculty at Malikussaleh University. Proceedings of MICoMS 2017. https://doi.org/10.1108/978-1-78756-793-1-00020
Sanmugam, S. T., & Kadir, A.K. (2019). Evaluating the workplace communication needs of aircraft maintenance engineering students at a Malaysian Polytechnic. 9th National Conference in Education-Technical & Vocational Education and Training (CiE-TVET)
Sasila, I.F., & Mahmood, A.S. (2017) The problem faced by Unikl Miat students during on Job Training (OJT) - students and industrial's Perspectives. International Journal of Management and Applied Science, ISSN: 2394-7926.
Shams, M. (2008). Students' Attitudes, Motivation and Anxiety Towards English Language Learning. Journal of Research and Reflections in Education, 2, 121-144
Shukri, S. A., Ramli, F. I., Wan Badaruddin , W. T. F., & Mahmood , A. S. (2021). Importance of English language in Aviation Maintenance: A Malaysia Case Study. Journal of Aeronautics, Astronautics and Aviation, Vol. 53(2), 113–120. http://doi: 10.6125/JoAAA.202106_53(2).02
Syamsinar, S. & Jabu, B. (2015). The Problems in Professional Competence of Teachers in Teaching English Subject at Vocational High Schools. ELT Worldwide.
Tengku Abdul Jalal, T. S. (2013). Workplace English: An Analysis of Communication Needs. Proceedings of the 2016 International Conference on Industrial Engineering and Operations Management Detroit, Michigan, USA. http://ieomsociety.org/ieomdetroit/pdfs/365.pdf
Tetiana, K. (2015). The role of Technical English in Aviation Maintenance. UDC331.546:656.7.071.13 (045)
Ting, S. H., Marzuki, E., Chuah, K. M., Misieng, J., & Jerome, C. (2017). Employers' views on the importance of English proficiency and communication skill for employability in Malaysia. Indonesian Journal of Applied Linguistics, 7(2), 315-327.
Torquato, F. G. (2004). Tratado de Comunicação Organizacional e Política. São Paulo, Thomson.
Trippe, J., & Baese-Berk, M. (2019). A prosodic profile of American Aviation English. English for Specific Purposes.
Vieira, M.A., & dos Santos I.C. (2010). Communication skills: A mandatory competence for ground and airplane crew to reduce tension in extreme situations. Journal of Aerospace Technology Management, 2(3), 361–370. https://doi.org/10.5028/jatm.2010.02038110
White, A. R. (2018) A review of an aircraft maintenance related English writing course [Conference session].CreTech 2018 6th International Conference on Creative Technology.
Wu, Q., Molesworth, B. R. C., & Estival, D. (2019). An Investigation into the Factors that Affect Miscommunication between Pilots and Air Traffic Controllers in Commercial Aviation. International Journal of Aerospace Psychology, 29(1–2), 53–63.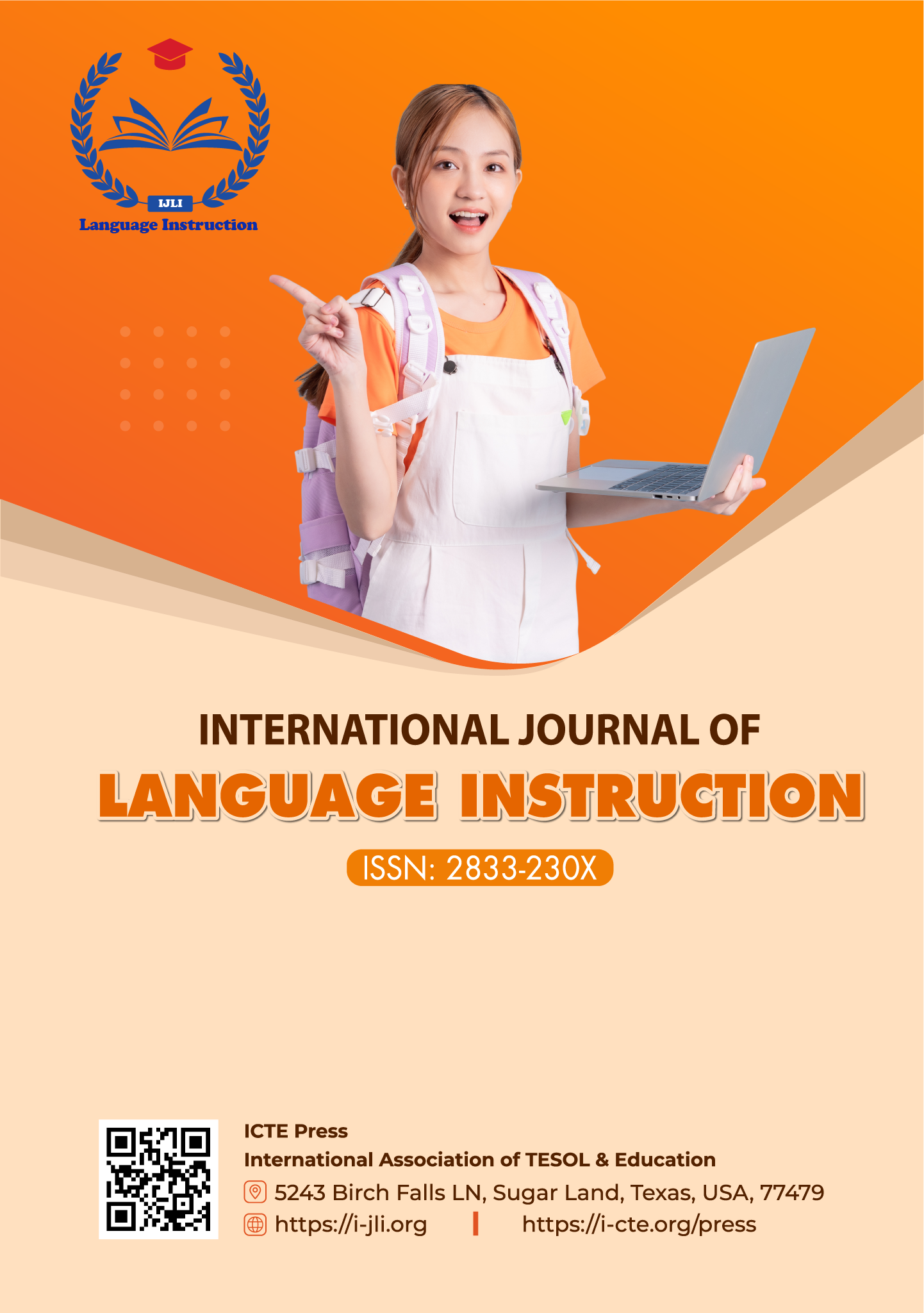 Downloads
How to Cite
Mahmood, A. S., Saad, N. S. M., & Nur, N. M. (2023). The Ups and Downs of Learning and Using English: Aviation Students' Voices . International Journal of Language Instruction, 2(1), 1–15. https://doi.org/10.54855/ijli.23211
License
Copyright (c) 2023 Aina Suriani Mahmood, Noor Saazai Mat Saad, Nurhayati Mohd Nur
This work is licensed under a Creative Commons Attribution 4.0 International License.
The copyright of all articles published in the International Journal of Language Instruction (ijli) remains with the Authors, i.e. Authors retain full ownership of their article. Permitted third-party reuse of the open access articles is defined by the applicable Creative Commons (CC) end-user license which is accepted by the Authors upon submission of their paper. All articles in the ijli are published under the CC BY-NC 4.0 license, meaning that end users can freely share an article (i.e. copy and redistribute the material in any medium or format) and adapt it (i.e. remix, transform and build upon the material) on the condition that proper attribution is given (i.e. appropriate credit, a link to the applicable license and an indication if any changes were made; all in such a way that does not suggest that the licensor endorses the user or the use) and the material is only used for non-commercial purposes. 
Authors are able to enter into separate, additional contractual arrangements for the non-exclusive distribution of the journal's published version of the work (e.g., post it to an institutional repository, in a journal or publish it in a book), with an acknowledgment of its initial publication in this journal.